Oct 13, 2012
You Can Be a Part of Destiny Covenant Church!
Destiny Covenant Church Ministry Events:

​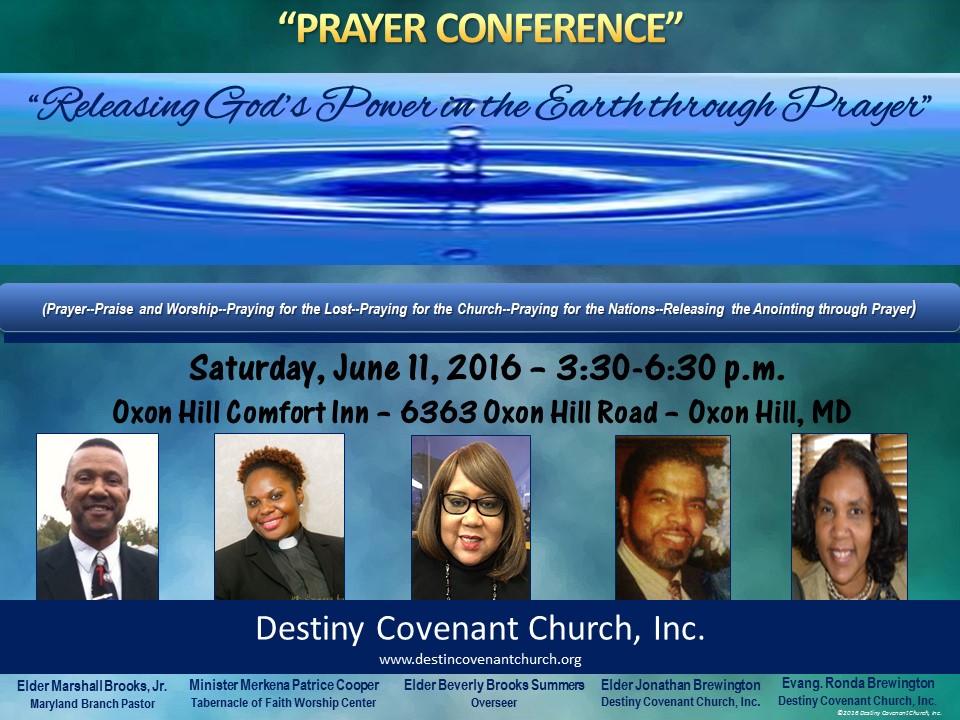 Destiny Covenant Church, Inc., has services in both Goldsboro, NC and in Prince Georges County, MD (near Washington, DC); and we also meet via TeleConference and Webinar. Our Overseer is Elder Beverly Brooks Summers (NC), and our Maryland Branch Pastor is Elder Marshall Brooks, Jr.
Join us on the first Sunday of each month at 3:30 p.m., at the Oxon Hill Comfort Inn - 6363 Oxon Hill Road - Oxon Hill, MD 20745.
Every Sunday (from 8:00-9:00 p.m.), except the First Sunday, for Prayer and Sunday School, via teleconference: Call-in Number: 1-712-775-7031; Access Code: 240-150-527#.
Every Wednesday evening from 9:00-9:45 p.m. EDT, both sites have Bible Study via Teleconference* (All are welcome): Call-in Number: 1-712-775-7031; Access Code: 240-150-527#. (The Playback number is 1-712-775-7029; Access Code: 240-150-527#).
*STARTING WEDNESDAY APRIL 27-JUNE 15, 2016, WE WILL BE HAVING OUR HOLY SPIRIT FOUNDATIONAL TEACHING SERIES.(Click on the free conference call link below. When you get to the site then click on "Online Meetings" in the top/middle of the page. Click on: "Join Meeting," and then enter the following Meeting ID: 240-150-527)
http://www.freeconferencecall.com
LESSON ONE: Introduction/Overview
LESSON TWO: Who is the Holy Spirit?
LESSON THREE:What is the Ministry of the Holy Spirit?
LESSON FOUR: What is the "Fruit of the Spirit?"
LESSON FIVE: What are the Gifts of the Holy Spirit?
LESSON SIX: The Holy Spirit and The Apostolic Ascension Gifts
LESSON SEVEN: Azusa: Before and After (Major Waves)
LESSON EIGHT: Wrap Up
(Please email us at DestinyCovMin@gmail.com if you would like instructions on how you may receive a certificate for your participation in the Holy Spirit Foundational Teaching Series Class)
Join us at our FaceBook Page at: https://www.facebook.com/pages/Destiny-Covenant-Church-Inc/141807502637660?fref=ts
In North Carolina:
Further information may be obtained by calling us at (919) 273-2772.
In Maryland (Prince Georges County):
We meet on first Sunday's at 3:30 p.m., Starting Sunday, November1, 2015, at the Oxon Hill Comfort Inn - 6363 Oxon Hill, MD. Elder Marshall Brooks, Jr., is our Maryland Branch Pastor. Additional services will be added as this ministry grows! Our Maryland contact number is: 240-398-6717.
Additional services and Bible Studies will be added later.
At Destiny Covenant Church, we are committed to being a missional church of apostolic believers; helping others reach their God-ordained purposes; being the Church, and fulfilling the Great Commission in the earth..
By "being the church," the vision of Destiny Covenant Ministries is to innovatively reach the unchurched and disciple them in such a way that they become vibrant, members of the Body of Christ; knowing and pursuing their God-ordained purposes. Although we may use certain traditional methodology for fulfilling our vision, we will not limit our methodology to that of "traditional church." Our vision is multi-faceted and can be described with four "key" words:
(1) Evangelism,
(2) Education,
(3) Edification., and
(4) Empowerment.
At Destiny Covenant Ministries we value and are committed to:
Powerful Strategic Prayer

Systematic Bible Study (Teaching)

Preaching the Word of God (Preaching)

Comprehensive, Systematic, and Age Appropriate Christian Education for all Ages

Efficient and Effective Evangelism

Dynamic Discipleship

Quality Outreach (to meet the needs of those who may not enter our four walls)

Developing Strong and Solidified Families

Inner Healing (Luke 4:18)

Worship that Touches Hearts and Bring Forth Change

Fellowship

Helping Others Understand and Pursue their Purposes

Integrity and Faithful Stewardship

Birthing Leaders

Giving Glory to God

Being a missional church, in such a way that the Apostolic Genius is activated

Gender Equality

"Being the Church" rather than "Doing Church"
There's a Place for You at Destiny Covenant Ministries!
Be a part of an exciting ministry in the Goldsboro, NC area! Weekly bible study, services, conferences, workshops, virtual ministry events and the Destiny Covenant Bible College! Destiny Covenant Church is not just church as usual -- it is a "transforming" experience!